Steem is poised for sustained growth. Active user numbers are growing well faster than linear, and was ranked #2 by a major cryptocurrency research study done in collaboration between China's Ministry of Industry and Information Technology and the leading Chinese data and tech company (CCID).
Steem
Many people are introduced to the token through Steemit –  a social media, social networking, and blogging site that runs on the Steem blockchain. The details have yet to be seen on Facebook's blockchain project, but it could take on a similar form to the levels working between these two.
CCID Research Ratings
CCID is China's largest research, consulting, IT outsourcing firm. The research seems to have been done completely removed from hype. The top five have maybe only one name that the general public is aware of. All of those except Steem are much more complex ecosystems, along the lines of Ethereum.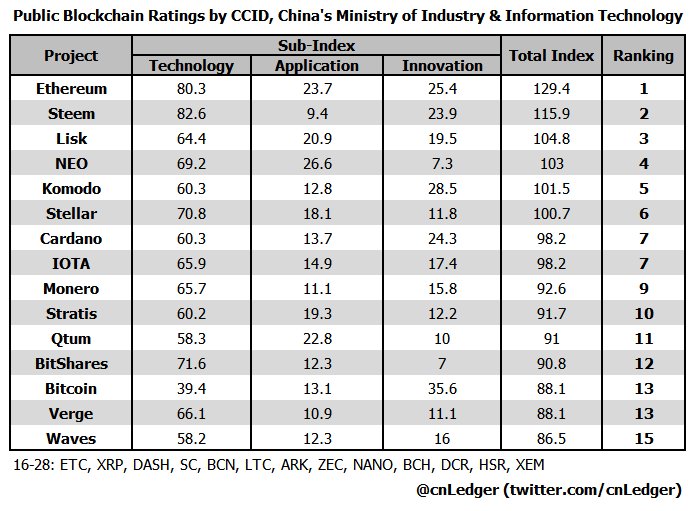 Active User Growth
A recent Cambridge study estimated that there were around 2.9 – 5.8 million unique active cryptocurrency wallets users. This number is increasing exponentially. Steem is well-positioned to take advantage of this influx with its current user base.
The fact that it has a functioning use case as a social media and content platform will play into activating network effects. (Cryptokitties is still the most active ethereum application). Some usage facts on the Steem blockchain:
Produces more than a million daily transactions

About 60,000 unique accounts transact daily

Everyday Steemit.com sees over 250,000 unique visitors

It interact with hundreds of other DApps
Other Research
Another major study done on non-blockchain Chinese companies took place recently to gage their interest and knowledge on the space. It was lead by a partnership between PwC and VeChain. The data revealed strong belief that blockchain technology will give many benefits to existing companies, but that data security and unification of processes are most important.
You might also like
---
More from Crypto
---
What Are the Reasons for the Rise in Altcoins? Should you even consider to buy Altcoins today? Let's tackle those …
The Celo could be one of the profitable projects. Is CELO blockchain the hidden blockchain for corporates and 10x profitable …
DOGE prices are attempting to double since the bottom price. Can Dogecoin price reach 10 cents soon? Very likely, here's …