Steem is poised for sustained growth. Active user numbers are growing well faster than linear, and was ranked #2 by a major cryptocurrency research study done in collaboration between China's Ministry of Industry and Information Technology and the leading Chinese data and tech company (CCID).
Steem
Many people are introduced to the token through Steemit –  a social media, social networking, and blogging site that runs on the Steem blockchain. The details have yet to be seen on Facebook's blockchain project, but it could take on a similar form to the levels working between these two.
CCID Research Ratings
CCID is China's largest research, consulting, IT outsourcing firm. The research seems to have been done completely removed from hype. The top five have maybe only one name that the general public is aware of. All of those except Steem are much more complex ecosystems, along the lines of Ethereum.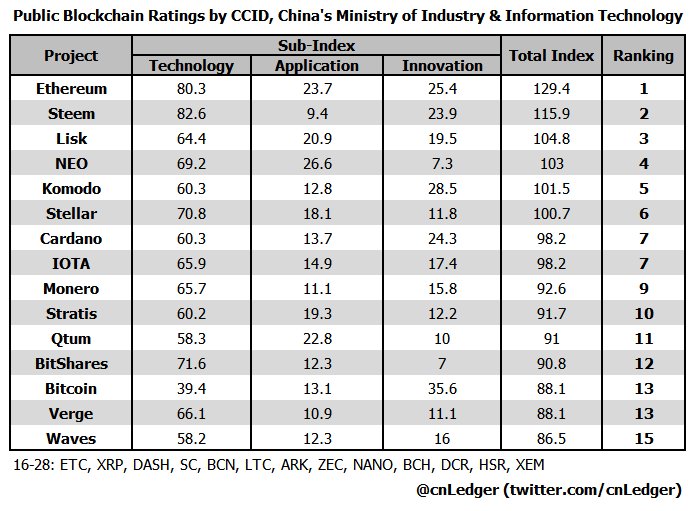 Active User Growth
A recent Cambridge study estimated that there were around 2.9 – 5.8 million unique active cryptocurrency wallets users. This number is increasing exponentially. Steem is well-positioned to take advantage of this influx with its current user base.
The fact that it has a functioning use case as a social media and content platform will play into activating network effects. (Cryptokitties is still the most active ethereum application). Some usage facts on the Steem blockchain:
Produces more than a million daily transactions

About 60,000 unique accounts transact daily

Everyday Steemit.com sees over 250,000 unique visitors

It interact with hundreds of other DApps
Other Research
Another major study done on non-blockchain Chinese companies took place recently to gage their interest and knowledge on the space. It was lead by a partnership between PwC and VeChain. The data revealed strong belief that blockchain technology will give many benefits to existing companies, but that data security and unification of processes are most important.
In order to support and motivate the CryptoTicker team, especially in times of Corona, to continue to deliver good content, we would like to ask you to donate a small amount. Independent journalism can only survive if we stick together as a society. Thank you
Instant Crypto Credit Lines™ from only 5.9% APR. Earn up to 8% interest per year on your Stablecoins, USD, EUR & GBP. $100 million custodial insurance.
This post may contain promotional links that help us fund the site. When you click on the links, we receive a commission - but the prices do not change for you! :)
Disclaimer: The authors of this website may have invested in crypto currencies themselves. They are not financial advisors and only express their opinions. Anyone considering investing in crypto currencies should be well informed about these high-risk assets.
Trading with financial products, especially with CFDs involves a high level of risk and is therefore not suitable for security-conscious investors. CFDs are complex instruments and carry a high risk of losing money quickly through leverage. Be aware that most private Investors lose money, if they decide to trade CFDs. Any type of trading and speculation in financial products that can produce an unusually high return is also associated with increased risk to lose money. Note that past gains are no guarantee of positive results in the future.
You might also like
---
More from Crypto
---
The second largest crypto-asset in the world is progressing rapidly to establish itself as the cornerstone of the new decentralized …
The ever-busy Enjin team completed a major milestone yet again by releasing a blockchain plugin name EnjinCraft for the popular …
Band Protocol released a community update on May 02, which listed major project developments and partnerships. The team stated that …