The Bitcoin network is the network with the most computing power ever. It is possible for everyone to participate in the process of mining with any device. Bitcoin mining is the method of producing or somewhat finding bitcoin currency. Unlike fiat currency that is issued when more is required, bitcoin cannot solely be wished into an actuality but has to be mined through analytical methods. Bitcoin maintains a public ledger that includes prior transactions, and mining is the method of attaching new transactions to this ledger.
If you were to mine Bitcoin on a MacBook Pro for one day for a whole month you would earn very less worth of bitcoins. Not to mention the damage to your precious machine and you'll presumably smoke your Graphics card before you mine even 0.00001 BTC!
To have any possibility of making a profit you'll want a sturdy machine, such as MacBook Pro or a higher-end iMac such as the iMac with 5K display. You could probably use a MacBook Air or Mac mini but due to the lower-powered GPUs located in those devices, it's not desirable.
If you are interested in trying the Bitcoin mining with the PC or Mac, then following guideline is useful.
Bitcoin Mining
The purpose it's named Bitcoin mining isn't that it requires a real act of digging. Bitcoin is a completely digital token that doesn't need physical mining, but it does have its style of prospecting and replacement, which is where the "mining" terminology originates from.
Of course, to start mining, you have to install a bitcoin mining software. There are several bitcoin mining software. Each has advantages and disadvantages. We introduce 3 of them.
CGminer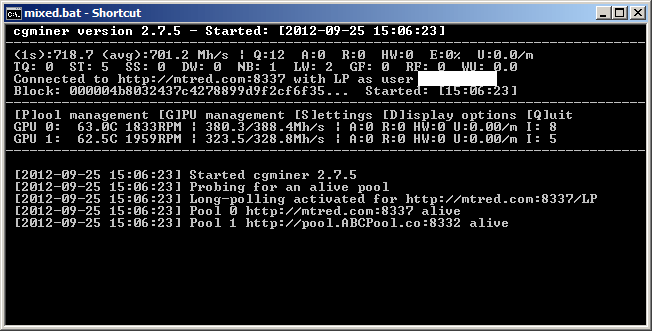 The CGMiner is one of the most popular softwares for bitcoin mining. It supports Windows, Mac and Linux. You can use it to mine CPU, GPU, FPGA and USB-ASCIs. Various settings such as overclocking, monitoring, fan control or remote control make the CGMiner a powerful tool. One drawback may be the input console as a user interface. The CGMiner can be downloaded from this page.
BFGMiner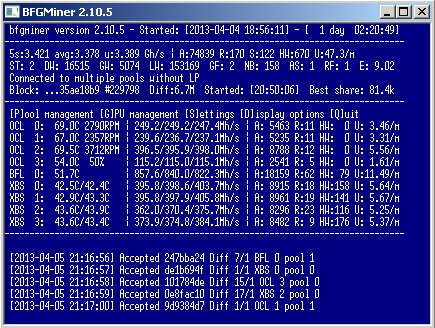 The BFGMiner also offers a variety of functions such as dynamic clocking, monitoring and remote control. Also with the BFGMiner it is possible to control USB-ASICs. You can also install the BFGMiner on the Raspberry Pi. Unfortunately, GPU mining is not supported. The BFGMiner can be downloaded from this page .
Multi Miner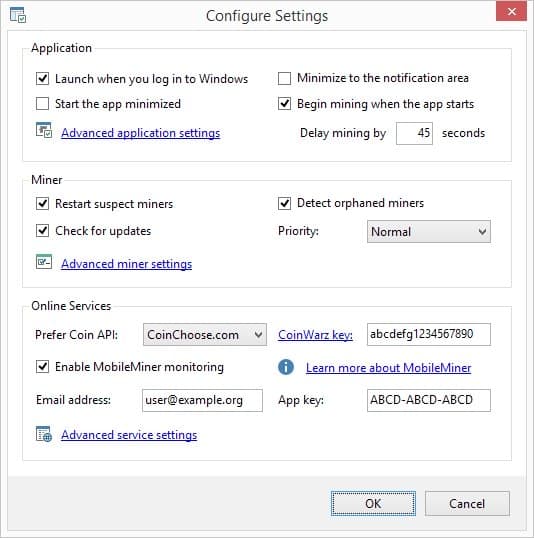 The MultiMiner has a graphical interface and is therefore very user-friendly. Like the other miners, you can connect to mining pools or solomines. Also, the MultiMiner brings many settings and statistics with it. You can mine GPU, FPGA and ASIC. The MultiMiner is suitable for beginners as well as professionals.
You can buy cryptocurrencies on Binance , Coinbase or eToro . If you are a beginner then click here to read our starter kit.
Disclaimer: This information should not be interpreted as an endorsement of any cryptocurrency. It is not a recommendation to trade. The crypto market is full of surprises and overhyped assets. Do your research before buying anything. Do not invest more than you can afford to lose.
Follow us on Twitter, Facebook, Steemit, and join our Telegram channel for the latest blockchain and cryptocurrency news.
Instant Crypto Credit Lines™ from only 5.9% APR. Earn up to 8% interest per year on your Stablecoins, USD, EUR & GBP. $100 million custodial insurance.
This post may contain promotional links that help us fund the site. When you click on the links, we receive a commission - but the prices do not change for you! :)
Disclaimer: The authors of this website may have invested in crypto currencies themselves. They are not financial advisors and only express their opinions. Anyone considering investing in crypto currencies should be well informed about these high-risk assets.
Trading with financial products, especially with CFDs involves a high level of risk and is therefore not suitable for security-conscious investors. CFDs are complex instruments and carry a high risk of losing money quickly through leverage. Be aware that most private Investors lose money, if they decide to trade CFDs. Any type of trading and speculation in financial products that can produce an unusually high return is also associated with increased risk to lose money. Note that past gains are no guarantee of positive results in the future.
You might also like
---
More from Bitcoin News
---
The Decentralized Finance (DeFi) craze doesn't appear to be ending soon, but is rather maturing with time. Even though the …
Bitcoin prices consolidated during this past weekend and confirmed a previous level of support of USD 12,680 discussed in our …
Ever since 2019, Bitcoin is on a steady uptrend, with much optimism and buoyancy. After recovering from a big crash …